About This File
Paneurhythmy - video tutorial - part 1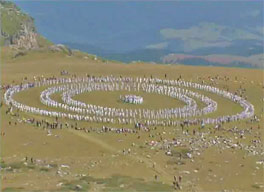 Paneurhythmy is a system of meditative movements that is set to music and performed outdoors during the spring and summer months immediately after sunrize. Paneurhythmy literally means - the Supreme Cosmic Rhythm.
Paneurhythmy improves health, evokes joy and brings into attunement with the Cosmic energies. These exercises revive, rejuvenate and connect human being with the living forces of Nature.
In this video film you will guided step by step to study this sacred meditation. Ina Doinova, who teaches Paneurhythmy more than 20 years, will demonstrate you all movements. You will be informed for the inner meaning of every exercise as well.
Spend some time and study Paneurhythmy which is now performed in many countries throughout the world including: Bulgaria, United State of America, Canada, Iceland, Costa Rica, Mexico, The Philippines, England, Scotland, France, Holland, Belgium, Germany, Switzerland, Italy, Russia, The Ukraine, Latvia, Lithuania, Macedonia, Australia, New Zeeland, Brazil, Spain and many more.
Download the film
Film duration: 2 hours 55 min 21 sec
File size: 1,7 GB
Video codec: XviD
* The film is offered by Izgrev TV and is free for non-commercial use and distribution.
For additional information or donations, please
contact: contactus@beinsadouno.com
For more information about groups performing Paneurhythmy in USA, please visit: www.paneurhythmy.us
Дата на първоначално въвеждане: 02.04.2007 г.