About This File
Life is a Parable - Film about Paneurhythmy and Master Beinsa Douno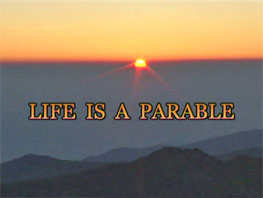 Every year, in mid-August, hundreds of people from Bulgaria and many other countries come to the Rila mountains in Bulgaria. At an altitude of 2,300 meters they build a tent camp, live together, sing, pray and practice the inspirational movements of Paneurhythmy - Supreme Cosmic Rhythm.
In this film you will be introduced into the Paneurhyhtmy exercises accompanied by the spoken Words of a Great Spiritual Teacher Peter Deunov.
Peter Deunov (1864 – 1944), known as well by his spiritual name Beinsa Douno, brought the knowledge of the coming of New Humanity. He presented the Word in around 7,500 discourses, created over 170 musical compositions, and introduced Paneurythmy exercises – the sacred dance of life.
In the Master's own words, "Each Paneurhythmy movement has its own intrinsic meaning. All of the exercises, when performed as a whole are a process which develops consciousness, a Path to perfection."
Film duration: 1 hour 10 min 10 sec
File size: 705 MB
Video codec: XviD
* The film is offered by Izgrev TV and is free for non-commercial use and distribution.
For additional information or donations, please contact: contactus@beinsadouno.com
For more information about groups performing Paneurhythmy in USA, please visit: www.paneurhythmy.us
TV team: Ivan Mihnevski, Stefka Lubomirova, Maria Tasheva
Narrator: Radostin Jelev
'Venir, benir', 'The spirit of god' and "To the master" are performed by
Zdravka Barumova (violin) and Ina Doynova (arrangement, electric organ)
Дата на първоначално въвеждане: 07.04.2007 г.